ADMINISTRATION
• About WSHFC
• Board Meetings/Hearings
• Careers
• Commissioners
• Events and Workshops
• My View from Kim Herman
• Newsroom
• Publications
Congratulations to our 2018 Friend of Housing and Margaret Sevy Award winners!
Read more about these amazing leaders here.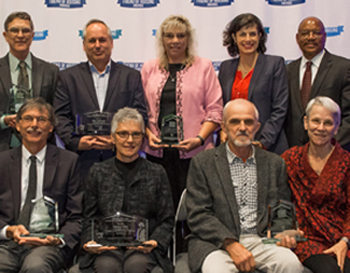 Back: John Harmon, Paul Lambros, Melodie Pazold, Rep. Nicole Macri, Andrew Lofton. Front: Arthur Sullivan, Melora Hiller, Douglas Hobkirk, Alice Quaintaince. Photo by Alec Miller.
EVALUATION CRITERIA
The selection committee evaluates nominees according to their active commitment in the previous twelve months:
Housing-related programs
Innovative financing mechanisms for affordable housing
Educational efforts about affordable housing
Supporting others to solve affordable housing problems
Legislation/public policy that addresses our state's housing needs
Innovation, leadership, creativity, or partnership that goes above and beyond the nominee's job duties
Specific examples, quantified results, and other details that show the nominee's impact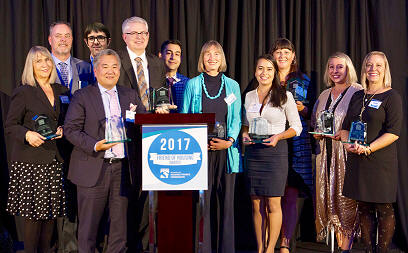 Read about the 2017 Friend of Housing Award winners: Dianne Wasson; Doug Ito of SMR Architects; Marty Kooistra; Deborah Winter; Madeline Cavazos (for Rep. McBride); Pamela Tietz; Jennifer Staplin; Alison Dean. Photo: Alec Miller.
MORE INFORMATION
For more information about the Friend of Housing Award, please contact Margret Graham at margret.graham@wshfc.org.