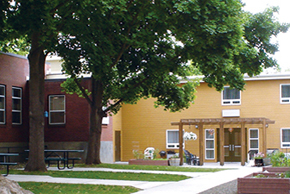 Galbraith Gardens, located in an historic neighborhood of Walla Walla, provides affordable housing for seniors. This development was made possible, in part, by the Commission's Land Acquisition Program.

Land Acquisition Program (LAP)
Purchase land today for affordable housing in the future
The Land Acquisition Program helps developers purchase land and preserve it for later development of affordable housing (rental or homeownership).
With a LAP loan, developers can buy the land at favorable interest rates as it becomes available on the market, and then take the necessary time to assemble financing for construction.
New: Expanded Land Acquisition Program (ELAP) - A Partnership with Microsoft
Limited to East King County target areas
Open to all housing developers, including for-profits
Serves residents up to 120% of Area Median Income
Original Land Acquisition Program
Statewide
Open to nonprofits, housing authorities and tribes (no for-profits)
Serves residents up to 80% of Area Median Income
See program information and application below
Land Acquisition Program (original)
What can LAP finance?
LAP provides an affordable loan to buy land for the eventual construction of affordable housing. It can also be used to acquire land for facilities that provide supportive services to affordable-housing residents and local low-income households.
Who is eligible?
Local governments, local housing authorities, nonprofit community or neighborhood-based organizations, federally recognized Indian tribes in the state of Washington, and regional or statewide nonprofit housing assistance organizations. If you are a for-profit entity and seek to build in East King County, please see our Expanded Land Acquisition Program.
Program Requirements
Property can be anywhere in Washington state
Housing limited to residents at or below 80 percent of the area median income
35-year affordability use restriction
Terms
1% interest rate with an estimated 1% loan fee and a maximum. Interest and principal payments may be deferred for the life of the loan.
LAP loans can be in any amount; however, LAP is not intended to cover 100% of site acquisition costs. Strong consideration will be given to applications that propose leveraging LAP funds with other financing sources.
The LAP loan should be in a first lien position but allow for other subordinated debt financing.
If the borrower does not meet the use commitment within the eight-year period, or if the borrower fails to use the property in a way consistent with the original affordable housing development plan, then the borrower will be required to repay WSHFC the principal of the original loan plus compounded interest calculated at the then current market rate.
When to Apply?
Applications for LAP may be submitted at any time. Projects are considered on a rolling basis, depending on available funds, so that developers can take advantage of market opportunities as they arise.
How to Apply
Program Description and Application Guidelines (PDF)
QUESTIONS
If you have questions about either LAP or ELAP, please contact:
Dan Rothman
Toll Free 800-767-4663 in WA
Email: Dan.Rothman@wshfc.org