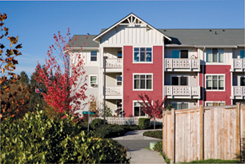 BOND/TAX CREDIT PROGRAM
• Overview
• Application Materials New!
• Bond Allocation Lists New!
• 2020 Bond/Tax Credit Policies
• 2019 Bond/Tax Credit Policies
• 2018 Bond/Tax Credit Policies
• 2017 Bond/Tax Credit Policies
• Placed-In-Service
• Evergreen Sustainable Development Standard

Bond/Tax Credit Program
Multifamily Housing Bonds with 4% Low Income Housing Tax Credit provide access to bond and tax credit financing for affordable housing developers.
NEWS AND HIGHLIGHTS
New! 2021 Bond/Tax Credit (4%) Policy 10/26/2020
Bond Allocation List June 2020 8/20/2020
4% Tax Credits/Bond Program Stakeholder Meeting Presentation 08/06/2020
New! Application and Policies 11/17/2019
Bond Allocation List 10/31/2019
Sustainability Resources for Multifamily Housing10/05/2017
Questions? Please contact us at askusmhcf@wshfc.org. To be placed on our notification list, please send your name, organization, and email address to AskUsMHCF@wshfc.org with the Subject Line, "Notification List".
OVERVIEW
If more than 50% of a project is financed with tax-exempt Multifamily Bonds, the project may access the 4% Low Income Housing Tax Credit (LIHTC) without competing for an allocation of the 4% Tax Credit. However, during years when anticipated demand for Multifamily Bonds is expected to exceed availability, there will be competition for the bonds through an announced Bond Round. If such a Round is in effect. It will be noted on this page. Using bonds with tax credits allows developers to combine low interest rates on long term debt with a substantial equity contribution from an allocation of LIHTC. While LIHTC cannot be used with 501(c)(3) bonds, nonprofit developers can access LIHTC by forming a partnership with a for-profit tax credit investor and applying for Multifamily Bonds.

What your lender will want to know (PDF)
Report on LIHTC Allocation and Activity in Washington State (PDF)
APPLICATION SCHEDULE: Projects Financed with Commission-Issued Bonds
Official Intent Declaration: In order for a developer to be reimbursed for expenses with bond proceeds, the Commission must issue a Official Intent Declaration (OID) to reimburse expenditures. The date the OID is signed by the Commission marks the period (60 days prior to the OID date) from which eligible costs may be reimbursed from the proceeds of tax-exempt bonds. If an applicant needs an OID prior to the submission of an application, the applicant should submit an OID Request Form (Excel) as soon as the sponsor intends to seek financing with Commission-issued bonds.
APPLICATION SCHEDULE: Projects Financed with Bond Issuer Other than the Commission
Applications for Bond/Tax Credit Program projects where the Commission is not the issuer of the bonds should be submitted 60 days prior to the date the 42(m) letter is needed.
QUESTIONS
If you have questions about the Bond/Tax Credit Program or need assistance with the application, please call us at 206-464-7139 or 800-767-4663 in WA or email AskUsMHCF@wshfc.org.