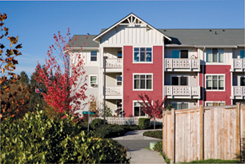 BOND/TAX CREDIT PROGRAM
• Overview
• Bond Allocation Lists
• Application Materials
• Public Housing & Development Authority Application Materials
• Placed-In-Service
• Policy Updates
• Evergreen Sustainable Development Standard
Want to be added to our mailing list?

Bond/Tax Credit Program
Multifamily Housing Bonds with 4% Low Income Housing Tax Credit provide access to bond and tax credit financing for affordable housing developers.
NEWS AND HIGHLIGHTS
New!

2022 Bond/Tax Credit Allocations Announced

In 2021, the Commission embarked on an entirely new set of policies and scoring criteria for the increasingly competitive bond/tax credit program. While demand remains twice as high as the available funding, the new policies brought many positive outcomes.

Download the allocations in table form (two tabs: Allocations by List and Allocations by Points)

Read the narrative explaining the results

Review the application materials from this competition

Want to join our Mailing List? Sign up here!
OVERVIEW OF THE PROGRAM
If more than 50% of a project is financed with tax-exempt Multifamily Bonds, the project may access the 4% Low Income Housing Tax Credit (LIHTC) without competing for an allocation of the 4% Tax Credit. However, during years when anticipated demand for Multifamily Bonds is expected to exceed availability, there will be competition for the bonds through an announced Bond Round. If such a Round is in effect. It will be noted on this page. Using bonds with tax credits allows developers to combine low interest rates on long term debt with a substantial equity contribution from an allocation of LIHTC. While LIHTC cannot be used with 501(c)(3) bonds, nonprofit developers can access LIHTC by forming a partnership with a for-profit tax credit investor and applying for Multifamily Bonds.

QUESTIONS
Call us at 206-464-7139 or 800-767-4663 in WA or email AskUsMHCF@wshfc.org.