Funds Available:

$8,683,778
as of 01/01/2014


Land Acquisition Program
The Land Acquisition Program (LAP) assists eligible nonprofit organizations in Washington state to purchase land suited for either multifamily or single family affordable housing development. LAP is a revolving loan program intended to assist with site acquisition for eventual use as affordable housing; LAP is not a short-term acquisition bridge financing program. Nonprofit borrowers must demonstrate sound experience and strong development capacity.
Program Description and Application Guidelines (PDF)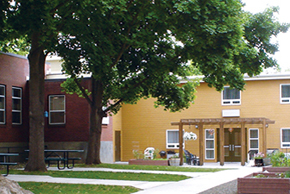 Galbraith Gardens, located in an historic neighborhood of Walla Walla, provides affordable housing for seniors. This development was made possible, in part, by the Commission's Land Acquisition Program.
QUESTIONS
If you have questions about the Land Acquisition Program, please contact Bob Peterson at 206.287.4454 or 800.767.4663 in WA or email Bob.Peterson@wshfc.org.